Emerald City Comic Con 2016!
on
April 4, 2016
at
2:01 pm
WHEEEEE! We wanna meet all you Halloween lovers this week at ECCC '16  so I've made an illustrated handy guide to where me and Jocelyn will be hanging out (sitting next to Invader Zim artist/Serenity Rose creator/ all around swell chap Aaron Alexovich)! Just look for the abnormally large hair!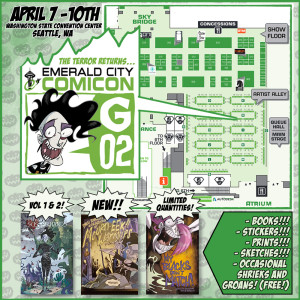 If we're not there, then we are either off making spooky magic things happen or at these relatively informative and probably entertaining panels…
THURSDAY:
Time: 4:15 PM – 5:15 PM
Location: T305
Christine Dinh (Boom! Studios), Jen Vaughn (Vertigo), Amanda Meadows (The Devastator), Shy Allot (Oni Press), Rachel Reed (Oni Press), and Alex De Campi (writer) share their pearls of wisdom on marketing creator-owned properties. From crowd-funding to conventions, they'll address the dos and don'ts of getting your work into the hands of your fans. Moderated by Jocelyn Gajeway (My Blacks Don't Match!).
SATURDAY :
Time: 1:30 PM – 2:30 PM              
Location: W3A  
Speakers: JD Boucher   Drew Rausch  Jillian Venters   Laura Graves   Georgia Ball 
It's back from the grave! Emerald City's spooky comics panel has returned. Writers, artists, and pros will talk about the process, tropes, and gory chunks that make spooky comics tick, ooze, and screech. Comics will be given to audience questions!