The cat's out of the bag!
on
June 15, 2017
at
12:05 pm
I hope you brought your appetite, my merry monsters, because BOY! – do I have a tasty tidbit of news that we're sure you'll want to sink your fangs into!
You may have noticed that our regularly scheduled GROAN-gram of MY BLACKS DON'T MATCH! has been a little irregular as of late, that's because we've taken a bit of time off to work on a real special deFRIGHT about a certain Halloween kitty.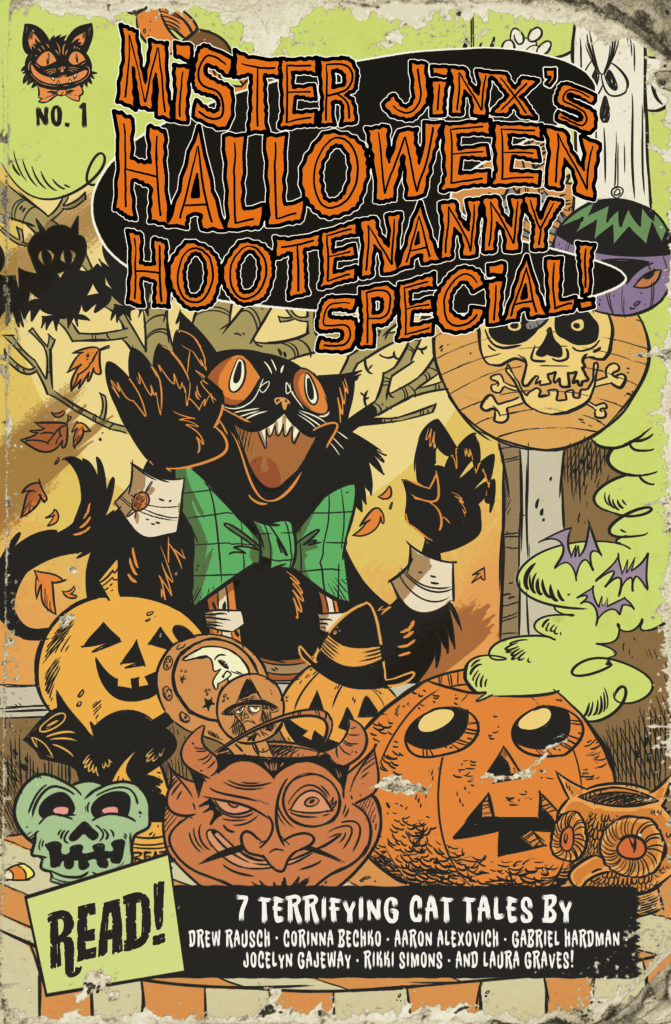 Every October 30th, commonly known as Mischief Night, Satan's beloved pet- Mr. Jinx-  takes an express elevator straight into the face of our dimension to stray cat strut among the toilet paper throwers, garage eggers, MURDERERS,and those choice few never-do-wellers that think leaving a flaming bag of poop on an old man's doorstep is HI-LAR-I-OUS! Take this fantastic opportunity to follow along as ol' Jinxy hangs out with Yeti, gangs up on some gruesome greasers, plays in traffic with the Son of Frankenstein and observes some of the more unique cemetery wildlife. It's a frightfully good time for the entire family to enjoy!
This July we'll be self publishing a 28 page anthology of sorts with some of our favorite writers of the wretched – Jocelyn Gajeway (My Blacks Don't Match!), Aaron Alexovich (Serenity Rose, Invader Zim), Corinna Bechko (Angel, Invisible Republic), Rikki Simons (Voice of Gir from Invader Zim, Ranklechick and His Three Legged Cat), Gabriel Hardman (Turn Keys, Invisible Republic), and Laura Graves (Witches Get Stitches, 666 Bistro) contributing TAILS from this fearsome felines 9 lives – all illustrated by yours BOO-ly! I've been planning this little love letter to the horror magazines that made me the monster I am today for a while now, and we're all very excited to share it with you! The plan is to have this for MIDSUMMER SCREAM in Long Beach and SCARE LA in Los Angeles, with copies available in the store soon after!
OH! – don't worry, we'll be back with more of your favorite autumnal deadtime stories before you know it. So sit back, relax and stay TOMB-ED!!!
-drew